The only tool that is really capable of determining whether a car has been crashed and repaired is a Paint or Coating Thickness Gauge
How and Why Should You Use a Coating Thickness Gauge
(This is a shortened version of the How&Why. Click HERE for a longer explanation we also posted recently.)
You can tell if the vehicle has been repainted by comparing the paint's thickness with the original paint on the roof. The roof is the least likely to get an accident. If you notice that the readings in certain parts of the car are thicker than the rest of the vehicle, take additional measurements for verification and then seek an explanation from the seller. The plastic filler and several coats of paint normally used to cover damage will produce thicker readings.
This is the only way you can make sure that the seller isn't hiding anything from you. Based on the information you get from the seller you can come to a purchasing decision easier. Sometimes cars are just repaired from minor accidents on the parking but in a lot of cases, bigger damage is the cause for repairs.
If you detect major parts with different coating thickness levels, you can walk away from the car or use that information to lower the price. Your choice.
Remember, every dealership is doing this and there is no reason for you to not do it, it's simple and effective. It also doesn't cost much. Here are the best coating thickness gauges at different price levels.
Best Paint and Coating Thickness Gauge Under 60$
When it comes to digital paint meters, cheap doesn't necessarily mean bad. Here are two coating thickness gauges that prove our point. Both have excellent reviews on Amazon.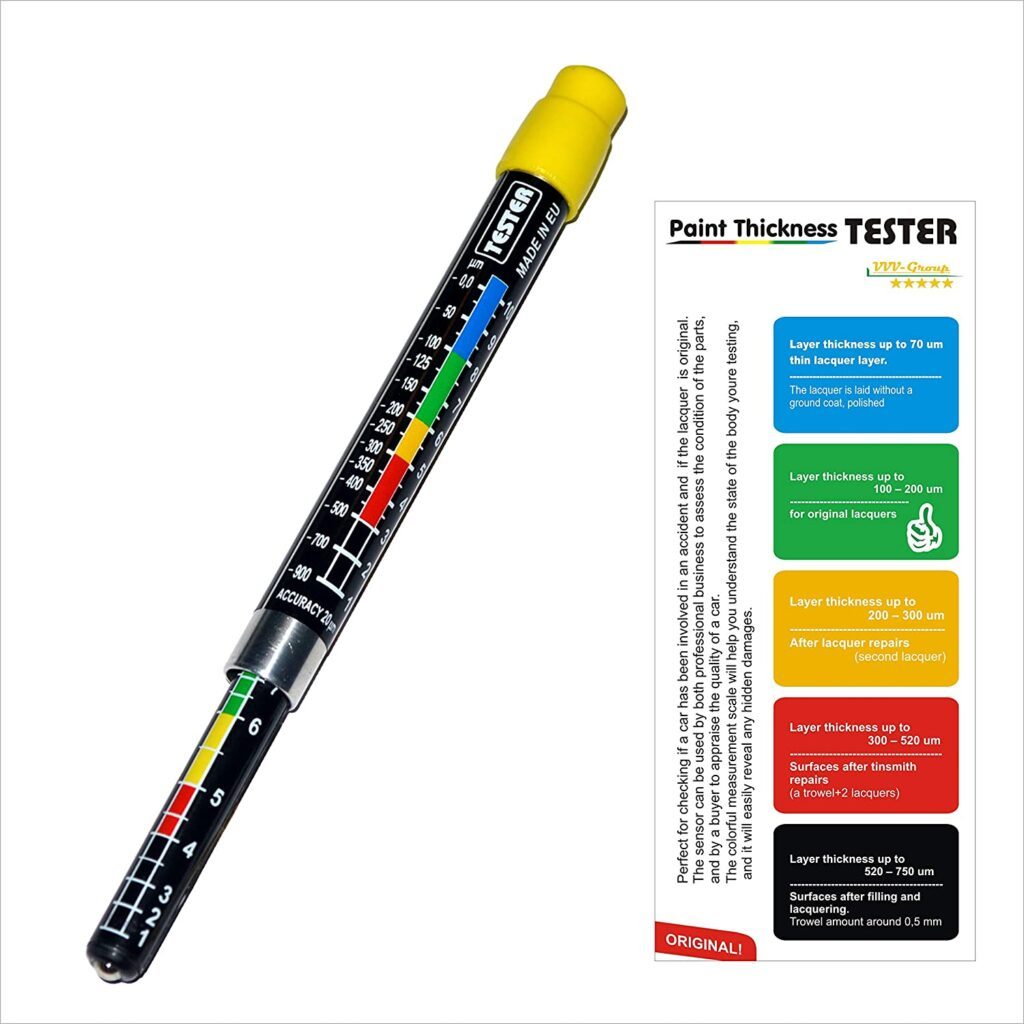 Pros +
Cons –
– The cheapest option on the market
– Does the job, reliable results
– Small, easy to carry around
– Does not need batteries, calibrating and charging
– Readings are not given in μm
– Works only on steel surfaces (uses a magnet)
Reviews:
231 Verified Amazon reviews with the average rating being 4.5/5, read more HERE:
"This is a cool little tester. Attach the magnetic tip to the car and slowly pull away. Watch the color code on the stick and it will tell you if you are looking at a repainted area. First find an un-repainted area which will hold the magnet solid for a bit and that sets your baseline. It should be green or so. Then move around the car retesting. It will surely find repainted areas like it did on my car. One I did not know about!"
"Worked great. I was surprised to find on my 2002 Lesabre, which had not been repainted, that the paint on the hood was thinner than on the side panels. Was this because of more sunlight and oxidation of the paint on the more exposed hood over 18 years time? My Lexus SUV had had body work done on it, and the device corresponded well in showing where this was done."
"So impressed with this thing. Found 2 areas that have been repainted and repaired on my used car but no accident reported to car fax. Upon further inspection in sun can see where the paint had very very slight bondo and overspray marks. Didn't know you placed the magnet on the car and then pulled it away. Took me a couple mins to figure out. Wish the measurement scales made more sense to me. Uses very technical terms for a few of the color readings. Found another bondo repair on a friends car with no accidents reported. Very cool tool. Highly recommend."
Pros +
Cons –
– Amazing price/performance value
– Auto reads steel and aluminum
– Great display
– 90-day full money back refund
– Some users complain about receiving a faulty device (the seller replaced it)

Reviews:
57 Verified Amazon reviews with the average rating being 4.7/5, read more HERE:
"For the money, I wasn't expecting much, but have been pleasantly surprised! The manufacturer even includes sample metal squares (ferrous and aluminum) and sample coating overlays of varying thickness to evaluate the calibration (1.97/3.94/9.84/19.7/39.4 mils). My unit is VERY accurate and precise…"
"So easy to use. Compared it to high dollar model at a local body shop and it was dead on. Sits on the top of my cart. Use every time before I polish a car."
"Great product. The case feels well built and the buttons feel strong. It comes with a storage case, battery, calibration plates to ensure accurate measurements and easy to read instructions. Good price and easy to use."
Best Coating Thickness Gauge for 60$ – 100$
This prince range is the "sweet spot" for affordable and great performing digital paint meters. Both products we chose offer incredible functions like continuous measuring and dual probes.
Pros +
Cons –
– Magnetic and Eddy current probe
– Offers single and continuous measurements
– Comes with calibration substrates
– Easy to use and calibrate
– Other than 1 buyer complaining about not receiving English instructions, there really is no cons. Great product for the price.

Reviews:
100 Verified Amazon reviews with the average rating being 4.5/5, read more HERE:
"Bought for car paint correction work (and used on my bike for fun!). Consistent accuracy, easy to hold and use and calibration was a breeze.It comes with a sleeve style case. Great for keeping it away from knocks and bumps with my other kit, but this case is not waterproof. It is very compact though.Found it better than another (pricier) model on amazon, because it feels really secure and comfortable in my hand whilst using it. Turning on and calibrating is easy and consistent between the 2 different substrate blanks given (aluminium and ferrous/iron).Very quick to use. Turn on, wait 5s, take readings immediately. A audible bleep tells you the measurement is taken, ready for the next one. Backlight is so practical too – mainly if needing to take photos! I found this unit an overall bargain and am very pleased with it so far."
"I did not expect this much from this unit, but it was surprisingly accurate when first tested out. It is very easy to use, comes with English instructions and the 2 batteries. It also has a carrying case for protection. Includes testing surfaces for both aluminium and iron with different thickness levels. One thing to note is that if you are trying to measure coating on plastic surfaces – such as a rear or front bumper, it will not work, since it needs either iron or aluminium base to measure properly."
"I bought this product because I had a suspition that my bonet had been resprayed. Before I went hammer and tongues in with the wet sanding, I neded to know how thick the clearcoat was. Although this doesn't tell me how much paint to clear coat, it does tell me that it was resprayed, and to proceed with caution with my machine polishing. I was worried about getting somethign cheap, as you can buy ones for thousands, but this was good enough for what I needed."
Pros +
Cons –
– Measures steel, rubber, plastic! All parts of the vehicle.
– Offers single and continuous measurements
– Can save up to 1500 readings in 4 groups
– Voice readings of the result
– Minimum an maxmimum reading setting
– Micron accuracy probe
– Easy to use and calibrate
– Buyers generally love the device but complain about poor instructions (check the Amazon page to see user written instructions)

Reviews:
44 Verified Amazon reviews with the average rating being 4.4/5, read more HERE:
"I've been seeing these for a while & caught it on sale here cheaper than other, straight from china, sites.. & it actually work well; ferrous & nonferrous. Seems accurate. Clear difference in factory paint reading to areas I've sprayed.
Can be a real handy tool in shopping for a preowned vehicle. NOT ALL accidents are reported (repairs on trade-ins, etc)"
"This product has been great. Seems to be accurate and also calls out the thickness as you measure. Easy to calibrate and to use."
"Its a really helpful product that helped me to detect that my cars two panel and the rear quarter has different paint coating than my other two panels on the right side. It was very accurate and when i took my car to the paint shop it showed the same reading as the Gauge showed. It also has basic calibration feature which helps to calibrate it easily. It also comes with 6 different calibration plate for easy and accurate calibration."
Best Coating Thickness Gauge for 100$+
Coating thickness gauges for more than 100$ offer a more professional build quality and precise readings. If you plan on using it often, then spending a bit more than 100$ is definitely worth it according to our research.
Pros +
Cons –
– Dual probe, measures all magnetic and non-magnetic materials
– Offers single and continuous measurements
– Can save up to 320 readings, 80 per group
– Minimum and maximum reading with an alarm
– Micron accuracy probe
– Easy to use and calibrate
– Only 1 buyer complained he could not calibrate the device (probably a defective unit)
– One buyer reports he did not get consistent ratings (very odd, probably a rare occasions)

Reviews:
171 Verified Amazon reviews with the average rating being 4.5/5, read more HERE:
"I have a mobile scratch repair business and before I knew what I was doing I burned paint on a few early demos. I learned from my mistakes and now take extra safe precautions to make sure that never happens again and one of those safeguards is this device. You can't lose for $130. If it saves you from one damaged car panel you just made your money back x3 or 4. I now use this on every car before I ever even touch the car with my buffer."
"My work is pre-purchase vehicle inspections and my specialties are exotic & luxury, collector cars and muscle cars. I use a thickness gauge mainly for twp things. One, are all metal body panels factory original paint. Two, how consistent is a repainted vehicle. This gauge works well for what I use it for. I am far from an expert with these sort of tools but it seems to me it is a good value. I would buy another one.."
"I got it because my son and I were looking for a 69 Camaro that was reasonably priced. Found one that looked great and the seller (who had it painted) said the body was straight underneath. Found places on the car where there was so much filler the meter wouldn't even get a reading! So for us, it paid for itself in one use! Not sure how the accuracy compares to much more expensive setups, but for someone like my son and I looking at used cars, it's invaluable!"
About The Author