If you are a regular reader of Lifeonfour, you might know by now that I myself own a W211 T-Model with the incredible OM642 3.0 V6 turbo diesel engine and you might also know that as much as I love this car and engine, I also criticize it based on the number of problems it has.
Today I wanted to share my experience with one particular issue of this engine that has caused me trouble in March of 2022 and it almost made me lose my mind.
I had my regular oil change service in January of 2022. Everything was more than ok and I happily drove home from the mechanic. I checked my oil level the next day, it was just below the max. level on the oil dipstick and everything was ok.
Fast forward two months and 3000 km (1600 miles) I checked up on my engine oil before I was departing on a big trip to Croatia. I was shocked. The oil level was well above the maximum level of the dipstick. Because I had no other choice on a Sunday, I quickly drained the excess amount of oil with a big syringe and small tubing.
After that road trip, I called my mechanic and scheduled a service appointment. Here is where it begins.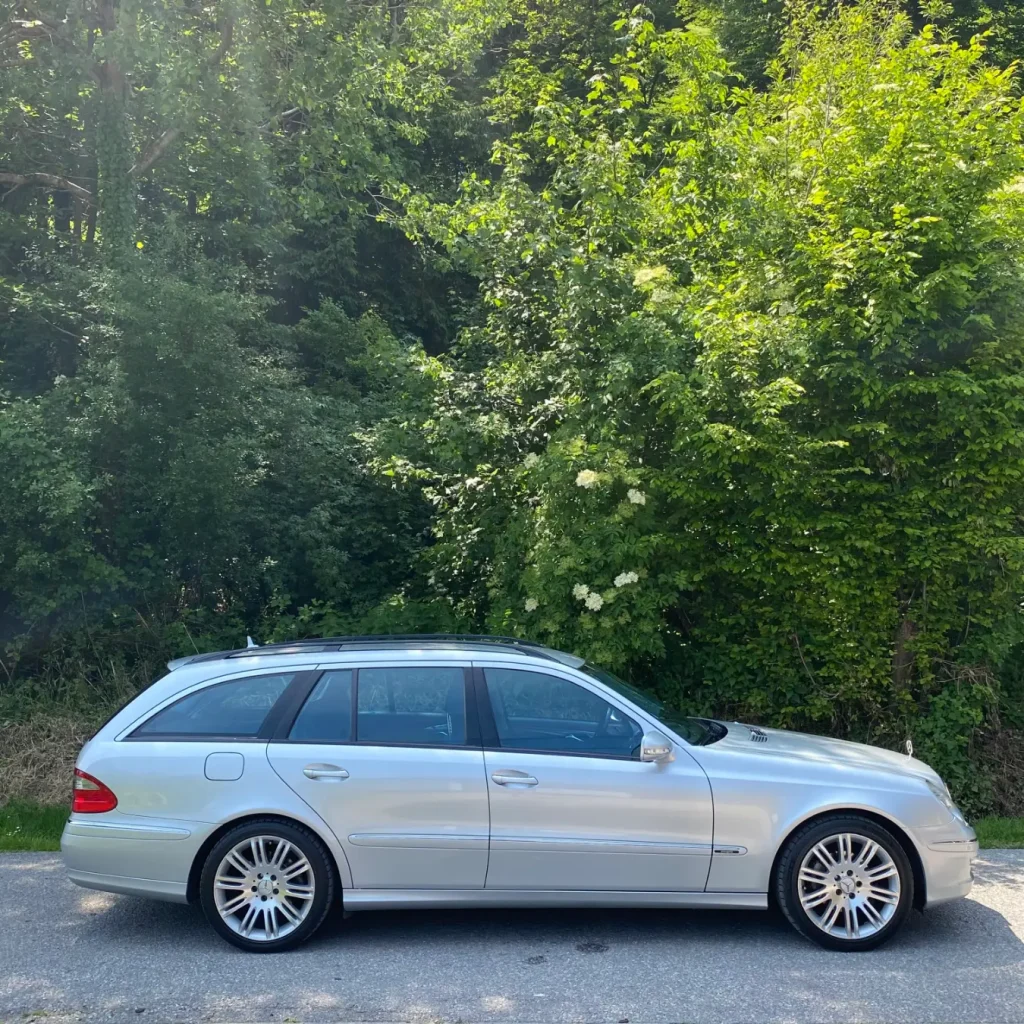 Dripping Leaky Fuel Injectors Are The Cause
My mechanic is a well-known and respected independent Mercedes mechanic, trusted by many people with 10x more valuable cars than my old S211. I completely trust him.
As we started talking and I described my problem, he immediately suggested that my fuel injectors were faulty and leaking into the combustion chamber. As they overflowed the engine with diesel fuel, a percentage of the unburned fuel seeped into the oil gasket which caused the fuel dilution problem that I was having. My engine oil smelled like diesel fuel essentially, there was no denying it.
So I went with it. I ordered 6 new fuel injectors. The OM642 3.0CDI uses piezo Bosch fuel injectors which cannot be refurbished in a way that makes them reliable (although you do find refurbished ones, I do not recommend it). New fuel injectors cost me around 1500 euros or 1650 US dollars. Including the labor cost and the cost of new engine oil (I could not run my car with the oil, diluted oil), I was looking at a total of about 1800 euros or 2000 US dollars.
What bothered me the whole time was the fact that my S211 only has 75,000 miles or 130,000 kilometers on the clock. So having a complete failure of fuel injectors is really weird, as they usually last at least 2-3X than my current mileage. But as I said, I trusted my mechanic, he said that this was normal and I went with it.
Guess What? The Old Fuel Injectors Were Completely Fine
A month went by and I kind of forgot about the whole thing. Sure, I still felt the pain of cashing out a large amount of money for a few fuel injectors, but at least I solved the problems and prevented engine damage that comes with fuel dilution right? Wrong.
After a month, I checked up on my engine oil, as I normally do, and yes, you guessed it, my engine oil level was still increasing. I was devastated and confused. I immediately called my mechanic and scheduled yet another service appointment. Because we got nowhere, I decided to have my old fuel injectors tested by an independent fuel injector specialist. They were tested in a professional environment on a Bosch EPS testing machine. Their conclusion was that the old fuel injectors were in perfect almost "as-new" condition. This was something I suspected from the beginning as I had this hunch that my fuel injectors could not fail at such low mileage.
My mechanic was denying the possibility that my fuel injectors were in good condition, claiming that while yes, they can prove to be in good condition in a testing scenario but they still might leak once they are in the engine. I decided to not listen to his advice, and had him remove the new fuel injectors and fit in my old fuel injectors. Thankfully enough, I was able to return my "new" fuel injectors with a small loss.
Diagnosing My Increasing Engine Oil Level And Fuel Dilution
I then decided I was not going to drive my car until I thought through all the other options why there is fuel in my engine oil sump. I knew that it had to do with a component of fuel injections, incomplete combustion or wrongful use of the car. I have read everything I could about the OM642 engine and of similar cases on owners' forums.
The worst-case scenario would be that my piston rings were worn out to the point where a normal amount of fuel injection leads to diesel fuel seeping into the engine oil. I immediately discarded that scenario as I knew that my war was a legit 1 owner, low mileage, well-kept example so I refused to believe that was the case (hint: I was right). I then also drove my car to an exhaust specialist to have my DPF filter and EGR valve checked and both were in perfect condition.
Keep in mind that my car was running like a dream, there were absolutely no symptoms apart from the rising oil level.
So what was it? After an evening session of Googling, I found the "Stephens Service Center" article on BlueTec problems, which included the OM642, OM651 and the OM646. And even though my OM642 was not a BlueTec, I continued reading. As I came to the fuel dilution part of the article above I stumbled on a Mercedes-Benz Service Bulletin LI49.20-N-060290. That was it.
Solution To My Mercedes Fuel Dilution Problem
After reading the Mercedes-Benz Service Bulletin LI49.20-N-060290. I realized that all the things that this bulletin contains, I was guilty of. The bulletin states and I quote: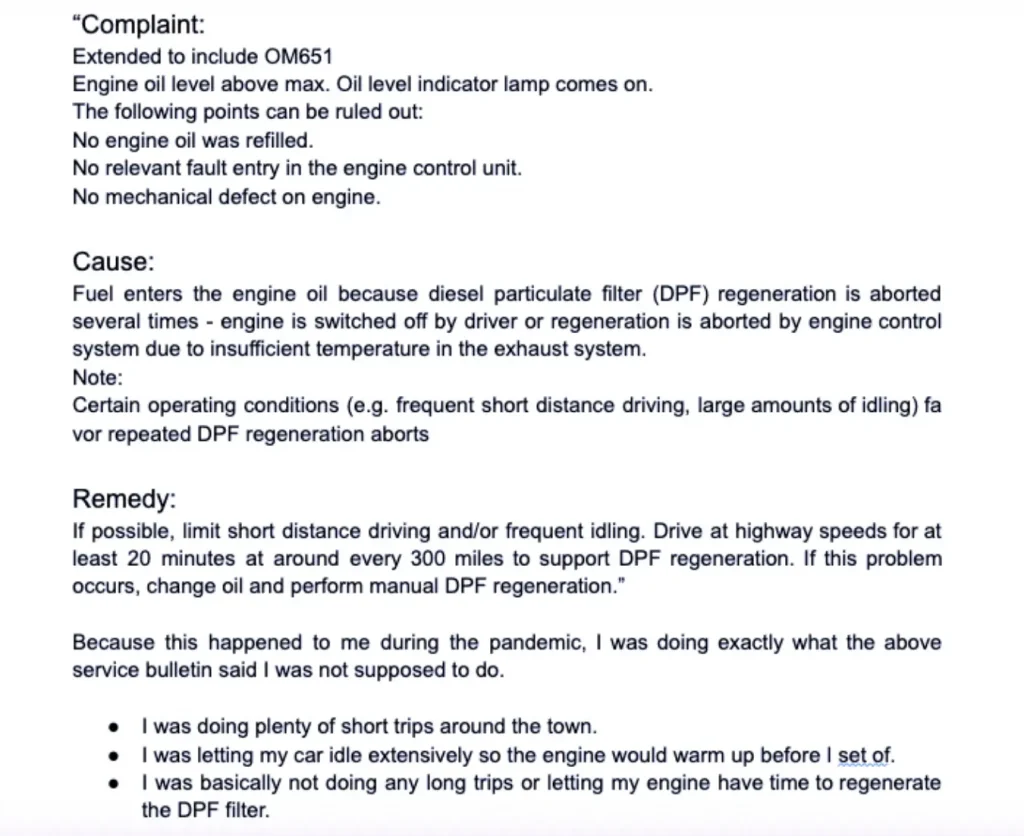 Because this happened to me during the pandemic, I was doing exactly what the above service bulletin said I was not supposed to do.
I was doing plenty of short trips around the town.
I was letting my car idle extensively so the engine would warm up before I set of.
I was basically not doing any long trips or letting my engine have time to regenerate the DPF filter. This means I surely interrupted the DPF regeneration multiple times which leads to fuel dilution.
Conclusion And Solution
I immediately stopped doing all of the things I listed above. I used my bike for short trips, I made sure I took my car onto the highway for at least half an hour each week and I stopped the excessive idling.
And now, 8000 kilometers later, I am having no trouble at all. I am regularly monitoring my engine oil levels and they are neither rising nor lowering. I am using the OM642 like it was meant to be used. This is an engine that was made for covering a big number of miles, and we are not talking about a large number of inner-city miles, we are talking about daily highway trips from Germany to France. That is where this engine shines, and all of the 6-cylinder-burning diesel fuel operate at their optimum.
So what is the problem here? It's my fault right. In many ways it is, I'll admit.
But on the other hand, Mercedes ignored these issues for a long time and it was not until 2019 that Mercedes included the information from the service bulletin above into the actual owners' manual of cars with newer BlueTec engines. The 2019 handbook clearly stated that short-distance driving can lead to fuel dilution and DPF blockages. But not only that, but they also added that prolonged idling can lead to premature turbocharger failure. It also stated that fuel dilution can lead to engine failure if ignored. Seeing that my 2007 pre-BlueTec 320CDI was experiencing the same issues it is odd to see Mercedes include this information in 2019.
If you wish to see all the negative aspects of short-distance driving and prolonged idling, see this PDF guide HERE.
So that is it. I hope my story helps in solving your fuel dilution and increasing engine oil level problems.
About The Author