Best CVT Transmission: There is no direct answer to this question, however, we can always look at the past and make educated guesses based on internet research and user reports. And this is exactly what we did here today. If you Google things like "Honda CVT problems" or "Honda CVT reliability" there is a big chance you were served nothing but a pile of useless articles that do not really answer your question about CVT reliability of certain car brands. These articles love to repeat what a CVT transmission is, what are the pros and cons and so on. Utterly useless to say the least. If you want to learn more about CVT transmission check out our guide.
We decided to do our job a little differently, we made an overview of every car brand's history of CVT transmissions and based on that, compiled a list of the most and least reliable CVT transmissions that have the common CVT problems. Let's dive in!
Most reliable CVT transmissions and car manufacturers
Before we introduce the list of the most reliable CVT transmissions by car brands, it is important to know that not all car brands design and manufacture their own CVT transmissions. This plays a huge roll in terms of reliability as outsourced transmissions can never be quality checked like they could be if they were built "in-house". Honda is an example of a car manufacturer that designs and produces its own CVT transmission, making them reliable and easy to maintain.
Honda CVT transmission problems & review (WINNER)
According to our opinion, internet research, real-life technician interviews and personal experience we can easily agree that Honda offers some of the most reliable and problem-free CVT transmissions on the market today. Their CVT transmissions are designed and manufactured by Honda with reliability and ease of maintenance in mind. If you stick to the manufacturer's maintenance schedule of transmission fluid and filter replacement, you should have no problems with the Honda CVT transmissions.
Toyota CVT transmission problems & review (2nd place)
Coming in second place is, without surprise, Toyota. Seeing how Toyota built their brand on reliability and longevity, their CVT transmissions are no different. A quick search on Google for terms like "Toyota CVT problems" will reveal the same story. There are simply no major faults of the Toyota CVT transmission systems.
Toyota CVT transmissions are made by Aisin, which is a Japanese automatic transmission manufacturer owned by Toyota. Aisin is known for making some of the best automatic transmissions in the world and they did a fantastic job with both the standard Toyota CVT and e-CVT transmissions.
Toyota offers several different CVT transmissions depending on the type of drive train. Let's take the New Toyota Corolla for example. Weaker petrol versions of the Corolla use a standard CVT transmission which is suitable for weaker petrol engines like the 1.8L you find in the Corolla. For stronger models of the Corolla, like the 2.0L petrol engines, Toyota actually fitted a CVT transmission with a physical first gear (like in a manual gearbox). The use of a physical first gear takes the pressure of the standard CVT system which is only engaged after the first gear. This design is brilliant because most of the stress on the CVT is applied in the first gear. Toyota knows this and by fitting a physical first gear they extended the life expectancy of the CVT in stronger versions of the Corolla significantly.
For hybrid models, Toyota actually uses something called an e-CVT system. This is nothing like a classic CVT system. The electric part of the hybrid powertrain uses single planetary gear sets that simulate various gear ratios that efficiently use all of the engine's power. This combined CVT system is incredibly reliable with many Toyota Hybrids like the Prius covering more than 300,000 miles with no problems at all. With proper maintenance, any Toyota CVT system should last you for a lifetime of the car.
Subaru CVT transmission problems & review (3rd Place)
In third place is Subaru, which is another Japanese automotive company known for reliability and ruggedness. Their CVTs are designed and manufactured in-house. Subaru's CVT is called the Lineartronic and for those of you who drove it, you know it is fantastic. But there is a reason why Subaru is not in the first place and the reason is the period from 2013-2017. Subaru CVT transmission in this period suffered from transmission failure issues which caused some drivers to lose power as they were driving, causing potential bodily harm if they ended up in an accident because of it.
https://www.subaru.com/engineering/design/transmission-lineartronic.html

Subaru owned up to their mistake and in July of 2017 Subaru issued the exact list of affected models while they did not offer a recall for all those vehicles, they did extend the warranty on these cars from 5 years or 60,000 miles to 10 years or 100,000miles. Most of the faulty transmissions have been fixed under this warranty, and people who had older or higher mileage vehicles were also offered a 1-year warranty extension.
In recent years, Subaru proved its engineering capabilities yet again and it continued with the CVT transmission implementation without causing any trouble to owners. The reality with any new technology is that things can go wrong and no company can execute enough tests to really release a bulletproof CVT transmission. Subaru's Lineartronic CVT transmission had its problems, Subaru admitted it and they are strongly but surely making some of the best CVTs on the market today which is why we gladly grant them the 3rd place in this article.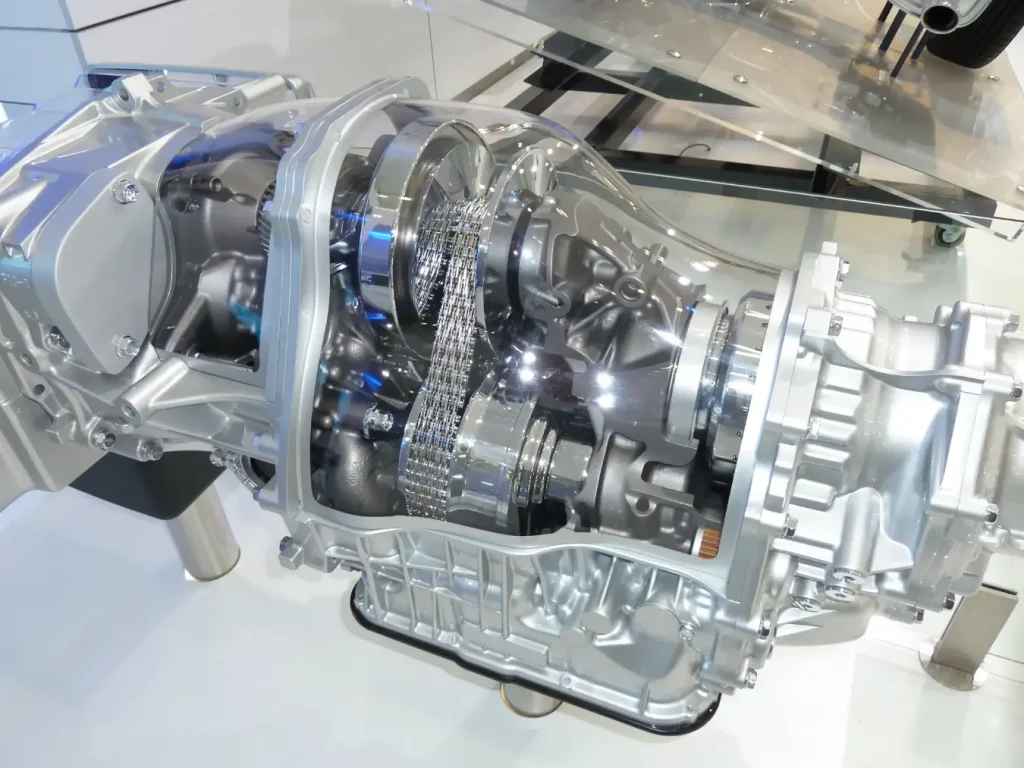 Hyundai /KiaCVT (IVT) transmission problems & review
If you are aware of the catastrophic 2019/2020 IVT transmission problems, that pretty much all happened before IVT-equipped cars reached 20,000 kilometers or 12,000 miles. And what makes it even worse is the fact that many of those failures blocked off the drivetrain while people were driving. As you can imagine, this can be very dangerous. The problem with this old version of the Hyundai IVT CVT transmission was resolved in the 3rd quarter of 2020 with a software technical service bulletin. To ensure that people still held trust in Hyundai and their transmissions, Hyundai released a new version of the IVT transmission in late 2020. They replaced the pulley belt with a chain. Having a chain instead of a belt makes the IVT transmission much more reliable and durable. Chain-driven CVTs are mostly seen in vehicles like the Nissan Pathfinder which are also commonly used for towing.
The fact that Hyundai designs and manufactures their own CVT transmissions makes us all the more sure they are on the right path to being the leading manufacturer of reliable CVTs. This update alone showed the public that they have reliability in mind. They were also very good in their response to all the IVT CVT problems in the past.
Update: We recently wrote an entire article dedicated to Hyundai CVT problems!
Nissan CVT transmission problems & review (+Mitsubishi and Suzuki)
Rightfully or not, we placed Nissan CVT transmissions in the last place when it comes to reliability. Nissan had so many problems with CVT transmissions it almost drove them to the ground (figuratively). Nissan released their first CVT car in 2002. As is common with new technologies, the new type of transmission was plagued with issues such as delayed engagement, vibrating, shaking, etc. A good 20 years later and Nissan is still dealing with the same issues and it drove some consumers to the brink of insanity. Here is a list of Nissan vehicles from the last decade alone that experienced CVT transmission problems:
2017–2021 Nissan Altima
2016–2021 Nissan Maxima
2010-2018 Nissan Altima
2010-2013 Nissan Cube
2011-2017 Nissan Juke
2010-2019 Nissan Maxima
2010-2019 Nissan Murano
2013-2017 Nissan NV200
2013-2019 Nissan Pathfinder
2017 Nissan Qashqai
2011-2014 Nissan Quest
2010-2018 Nissan Rogue
2010-2019 Nissan Sentra
2010-2019 Nissan Versa and Versa Note
Nissan CVT transmissions are made by a company called JATCO, or Japanese Automatic Transmission Company. And while JATCO has a long track record of manufacturing reliable and good automatic transmissions, there was a clear divide between real-world reliability and their testing of the problematic CVT transmissions. Nissan extended the CVT transmission warranty on certain models, but many other owners were not given the extended warranty and they were not happy, to say the least. All the problems sparked an incredible amount of outrage and class action lawsuits. You can find all the details on those lawsuits here https://www.nissanproblems.com/cvt/.
There is no going back for Nissan on those problems that were without a doubt very much present. And while many owners and Nissan themselves claim that those issues are resolved and a thing of the past, it has still left a big scar in the minds of the consumers. Anyone who knows about these issues is surely not buying a Nissan CVT without thinking twice about it.
Frequently asked questions
What company makes the best CVT transmission?
According to our live and online research, the CVT manufacturer with the least complaints and known problems are Honda and Toyota CVTs.
Which auto transmission is the best, the dual-clutch or the CVT?
Both the Dual-Clutch and the CVT have their own advantages. In theory, the CVT is the best transmission on the market because it is the most economical and there is no power loss in between gear "shifts".
Between manual, automatic, and CVT which is the best transmission and why?
A manual transmission will definitely be the most durable, cheapest to buy and repair. On the other hand, an automatic transmission is more comfortable, in some cases safer and offers faster gear shifts. The CVT is in theory, the best automatic transmission on the market.
Are there any good CVT transmissions?
Of course, there are. All Honda and Toyota CVT transmissions are known for their incredible reliability and efficiency.
Is CVT transmission better than manual?
In many aspects, the CVT transmission is the most efficient transmission on the market. It offers an infinite amount of different gear ratios which allows it to take advantage of the entire engine powerband and fuel. The manual gearbox however is cheaper to buy and maintain. It is also very durable and feels great to drive.
Who makes the worst CVT transmission?
According to historical records, the company with the most complaints is Nissan. They outsource their CVT transmissions to a company JATCO and have proven to be the least reliable in the last decade.
Conclusion
After all the research we have come to a conclusion, that people generally love to hate the CVT transmission. And do not get us wrong, if you had a catastrophic experience where a dealer quoted you 6000$ for a new CVT transmission, we totally understand your frustration. This alone and the way a car with a CVT transmission drives (the feeling) is the reason why the big majority of Europeans and Americans tend to not lean towards buying a CVT transmission. All the common problems of CVT transmissions we have talked about before are reason enough, that even we would not pick a CVT transmission while living in Europe.
But there is a place for a CVT transmission and it has two words attached to it: low torque and Japan. For some reason, Japanese people just love the CVT transmission and it works very well in many of their low-torque cars. This is the reason why all the brands listed above are either Japanese or South Korean. The western world is having a tough time adjusting to the CVT transmissions, especially outside of Hybrid cars where the CVT is a staple. That is the reason why companies like Mercedes-Benz dropped the introduction of the CVT transmission after implementing it in the W169 A-Class. Europeans just seem to love their dual-clutch DSG/DCT/S-Tronic transmission way more than CVTs. But even those dual-clutch transmissions come with a whole number of DSG problems. We think we just want a simple manual gearbox after reading all this, who's with us?
About The Author