Car camping is normally a very pleasant and safe experience. The beauty of the sunrises and sunsets in the wild, as well as dining and sharing that experience with your loved ones. Singing, dancing, and chit-chatting around the campfire all sound like a lot of fun until you have to confront something frightening.
But as always danger can be lurking from every direction. From the camping site selection and food to the sleeping arrangements. You never know what threats will come your way and in what shape. When the weather changes, hunger strikes, or bugs attack, you never know what you and your family may face.
You must have a plan for everything. To make car camping more enjoyable, I've included all of the potential hazards you can encounter so you can keep these things in mind and be cautious while planning a trip.
Is car camping dangerous?
If we would have to give a definite answer to this question we would say no car camping is not dangerous. But at the same time car camping is only not dangerous if you know what you're doing and you don't take the risks you should not take. These risks are mainly connected to sleeping in public places that are not inviting to car campers but many people still decide and do it because it's more convenient and a lot cheaper than visiting campgrounds. We have prepared a list of the most common camping dangers and a list of dangers of car camping in public places. If you are new to car camping, we recommend reading our guide to car camping.
Dangers of car camping
Campfires
Ensure your campfire is a safe distance away from your tent. Although most tents are built of flame-resistant material, this does not imply they are impenetrable.
It's critical to construct your fire properly to keep it from spreading and burning out of control – not just for your personal safety, but also for the protection of the forest. Forest fires must be avoided at all costs. That alone is the reason why many areas do not allow building open campfires.
Use stones to create a non-flammable barrier around your fire and keep all flammables, as well as free-flying papers and dry leaves, away from it.
Carbon Monoxide Poisoning
Carbon monoxide poisoning is called a silent killer since it is absolutely odorless and there is no instant way to know you're being exposed to it if you don't have a detector.
It is critical to keep any wood and gas burning devices outside of your tent to avoid carbon monoxide poisoning.
Campers are at risk of getting exposed to this lethal chemical as well. Some waterproof tents are quite effective at keeping the rain out, but they can also trap carbon monoxide within the tent as there is little to no air circulation.
Some camping stoves release dangerous quantities of carbon monoxide after only 20 minutes, which can become trapped in certain types of tents. The simplest approach to avoid carbon monoxide poisoning when camping is to keep burners and grills outside of your tent and away from your shelter. If you do plan on heating up your car with a gas heater, make sure you have a carbon monoxide detector.
Products mentioned:

Carbon monoxide detector (Check the price and offer on Amazon.com)
Gas heaters (Check the price and offer on Amazon.com)
Lightning
Cold summer nights, severe downpours, or even hot weather can all contribute to this deadly condition.
Weather is unpredictable and can catch you off guard no matter how many times you check the forecast. Lightning is a regular threat that can be easily avoided. Avoid standing near lone trees during lightning storms and instead seek refuge in a valley, in the field, or in a clump of tiny trees encircled by bigger ones. Get low and avoid making contact with the ground in open areas. Read more about lightning safety when camping, this is more dangerous than you might think.
Investigate the weather — at all times of day — in the place you're visiting, and be prepared for anything and everything.
Dehydration
It is critical to remain hydrated when coping with intense temperatures. To avoid excessive heat, wear sunscreen and cover as much of your skin as possible with light breathable clothing. Drink one liter of almost water every hour. Carry glucose or juices with you to stay energized and hydrated. If you become unwell and dehydrated during your car camping or hiking excursion, it will be quite difficult to return to a state of normal hydration, so make sure you don't pass that mark. Here are some additional tips on how to stay cool while car camping.
Health Hazards With Bugs and Ticks
Bugs are always going to be a part of the environment, which is arguably the most prevalent and genuine threat for anyone heading into the woods or summer camps. Though insects are difficult to avoid, they are one of those necessary evils when spending time outdoors. There are steps you can take to reduce your risk. Ticks and mosquitos have been linked to illnesses including malaria and Lyme disease. A decent mosquito repellent will be enough for the majority of campers.
Reapply insect repellent containing NEET or picaridin frequently, especially if you're sweating or in the water. Examine yourself for ticks before going to bed. If you discover one burrowed into your skin, get rid of it right away.
Another way to stay safe from ticks and bugs is through the use of bug repellent clothes which can be a hidden weapon for those who will be camping outside. Headwear, shirts, and pants are all lightweight and suitable for outdoor hobbies, and they should be frequently sprayed with insect repellent for maximum protection.
Wild Animals
Wild animals, such as bears can be a threat if you are a visitor in their territory. It's also critical to keep a tight check on your pets if they're with you on your car camping trip, because wild creatures may mistake them for prey or potential danger and attack.
It's also a good idea to keep food out of reach of animals by storing it in your car or in food-storage lockers you have.
If a huge animal is spotted nearby, campers should keep at least 100 yards away to prevent frightening the animals. If campers come across a tiny creature, they should keep at least 25 yards away from it.
Products mentioned:

Bear proof storage containers (Check the price and offer on Amazon.com)
Falling trees and branches
If you decide to sleep in a campsite with a lot of trees make sure you check out the trees above you. Some trees can be dry or deadand those pose the biggest danger for falling branches during strongs winds or during a storm. In 2015 two minors died from a falling oak tree branch that landed right on their tent. There have also been other cases like this so it's not something you should ignore. Sleeping in your car is a lot safer when it comes to falling branches compared to sleeping in a tent.
Dangers of car camping in public places
Parking in Public
Every state has its own jurisdiction over parking rules, and restrictions might differ even within the same state municipality. Then, when you begin to explore different sorts of territory inside a state, you are certain to encounter diverse rules.
If you are totally limited within your car and you do not need to put up a tent, tarp, chairs, etc., you may come within the legal category of 'overnight parking,' Which can get you off the hook with the authorities, some states and countries also allow overnight parking if the driver is unable to continue driving due to fatigue. Overnight car camping however is illegal in most public places and can result in a fine.
Sleeping in The back of Your Car outside of campgrounds
Sleeping in your car near a trailhead may be a convenient and flexible option compared to tent camping, especially if you want to save time on setup or if there isn't enough room for tents. Spending the night in your rig might be risky.
Most of the time, persons who are spotted car camping will be issued warnings, sometimes even fines, and they will be told to relocate to a campground.
Risk of getting your car towed
If you park your car illegally and leave for a hike or other activities, you run the danger of having your car towed. There will be a significant fine as well as legal ramifications.
It's usually a good idea to research parking lots and their restrictions before you park and leave or even sleep there.
Easy Targets for Robbery
Thieves target car campers as the advantage of stealing from campers and car campers is that it makes it simpler for burglars to disguise their tracks. If they see a car that looks like a "camping vehicles" it usually means there is all sorts of stuff inside like computers, GPS devices, power banks, etc. If you park and sleep in a public space, make sure you are well disguised and not parked in a dark alley.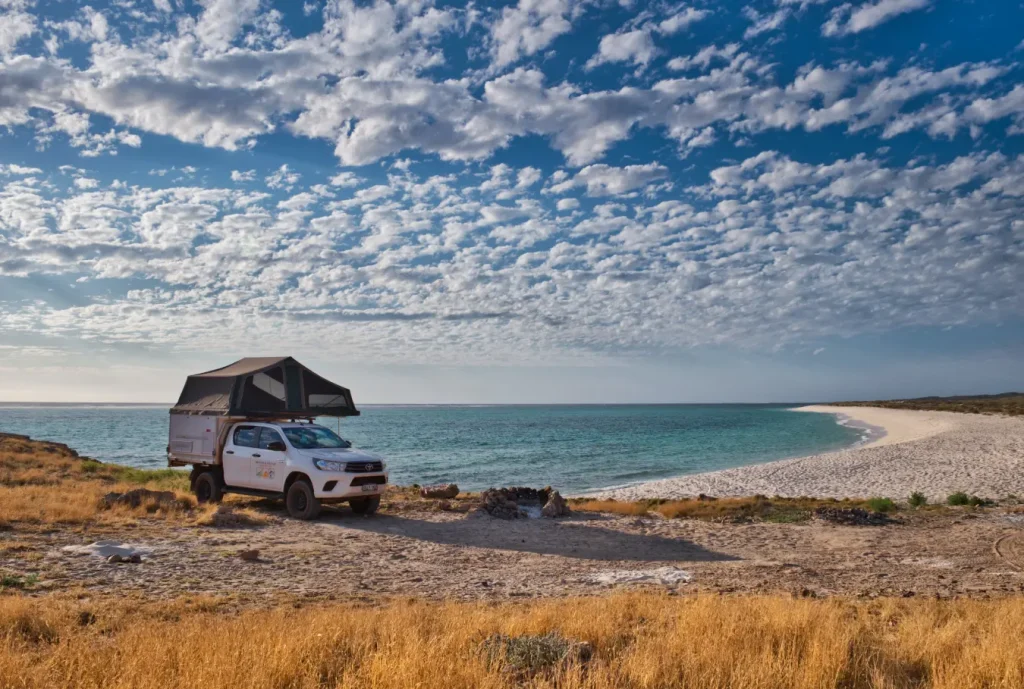 Sleeping in Front of A Walmart
Walmart is well-known in the car camping world for graciously allowing tired travelers to park in their parking lots. If you want to stay the night at a Walmart, it's wise to contact the shop beforehand and inquire about the store's overnight policy. However, the number of establishments that allow overnight parking has decreased in recent years. These changes are the result of a variety of factors, the most important of which is poor manners. If you must spend the night, try to be as unobtrusive as possible. Park further away from the store entrance, preferably away from the major parking lot channels.
Walmart camping is only available for one night. You are not permitted to stay for longer than 12 hours. It is common practice to arrive in the evening and leave in the morning.
The parking lots at Walmart are well-lit. The illumination is good for feeling secure, but it might interfere with your sleep.
Camping, like real camping, however, is not permitted at all Walmarts. Only certain Walmarts, as per estimates, allow overnight parking.
Stores and Locations That Do Allow Overnight Car Camping
Stores that do allow car campers and RVs to stay overnight
Walmart
Camping World
Bass Pro Shops
Cracker Barrell
24 hour Casinos (Consult before parking)
Use these apps and web pages to find legal overnight parking places
Recreation.gov
FreeRoam
Dyrt
HipCamp
Campendium
Floods and Evacuation
If you're camping in an area where flooding is prevalent, keep an eye on the weather forecast and be cautious if there's a risk of heavy rain. If you have to leave the region, and if you haven't done so yet, move to higher ground and remain clear of the floodwaters. Flash floods occur when places that are normally dry receive a large amount of rain.
Conclusion
It is vital to be prepared for anything even rare occurrences like lightning strikes and flash floods. Use your basic knowledge and common sense and follow all of these car camping safety recommendations to guarantee that your vacation is the best it can be. At the end of the day, no matter how well prepared you are, bad things can happen. One thing I've learned about travel is that no one can foretell how you'll feel. Even in the "safest" of car camp trips, anything can go wrong; you never know, but don't let that deter you from exploring. Here are some more frequently asked questions about car camping that you might be interested in.
About The Author