Van life in Europe? Yes, it totally possible! By now you must have heard about the "Van Life" lifestyle. It has gone almost mainstream in the last two years. Almost to the point where your parents and grandparents know about it. It is a perfect lifestyle for those who work online and don't want to be tied down to a single location. Working and exploring new places does sound amazing, doesn't it?
When seeking van life content you mostly see Americans doing it. Most of the "van life" influencers come from the US. The truth is, the van life community is also alive in Europe. It's a bit different but it is perfectly doable. Sure, the vans are a bit different and the whole camping scene is a lot different, but those obstacles are not big enough to stop people.
Which van to buy for van life in Europe?
We have some general recommendations but it mostly depends on your budget and needs.
General recommendations:
Old diesel engines. This is especially important if you are buying an older van. Old vans like the Mercedes-Benz 310 (now known as Sprinter). Or the smaller Volkswagen Transporter T4 has amazing and reliable diesel engines like the 2.4D (before TDI). Especially older Mercedes diesel engines are known to be insanely reliable and some-what fuel-efficient. Older and newer petrol engines in vans tend to consume a lot of fuel. That is due to the general shape of vans, that does not make them aerodynamic. Most of the older diesel engines do not have turbos and delicate fuel injectors. This makes them really reliable but also very slow. This means huge hills will be a problem. The reliability outweighs the low performance tho. If you find one with low mileage, you struck gold.
Newer diesel engines. If your budget allows you to buy a van with a newer diesel engine be careful. Common rail diesel engines and turbo diesel have a lot more complicated technology that needs proper maintenance. This, of course, is not a problem if you are buying a new van. But if you are buying a used van, make sure to check the van's maintenance reports and history. We can stress enough how important this is, especially with higher mileage vans.
LPG (liquified petroleum gas). It's common to see petrol-powered vans converted to run on Autogas or LPG. This reduces fuel costs in a big way, which is amazing. Some LPG powered vans use less fuel than diesel vans. This can be a great option as petrol engines tend to be reliable and less complicated than some types of diesel engines. However, make sure the LPG installation was done by professionals and that it was maintained properly. If not, you can expect huge engine problems and it might not be safe to drive a van with a faulty LPG installation.
Really think through your needs. Is this van going to be your home? Are you alone or with a partner? Are you going to use this van just for trips and shorter travels? Will you visit official campsites or camp in "stealth mode"? What features will you need (shower, wood stove, etc.) Think about this and everything else imaginable.
Low budget vans (up to 5000€, including a 1000€ build)
All prices and examples are taken from Mobile.de, the biggest German car marketplace.
For this budget, you can get a really good and fairly modern L1H1 van. L1 means length 1 and H1 means height 1. This is a fairly small van, not a good option if you plan to live in it. These are our picks (click on the image to enlarge):
Citroen Jumpy with the 90HP HDi engine
A really well kept Volkswagen Transporter T4 (preferably with the 2.4D engine)
Fiat Ducato (any year is good as long as it is well taken care of, Fiat diesel engines are great)
Old Mercedes Sprinters (fairly reliable, but always check for service history and body rust)
Ford Transit (most of the time they have glass panels and are fairly reliable, a good option for UK buyers)
All of these vans are under 4000€ which leaves you some space to build out your living setup. They also include reliable diesel engines. You could go even lower with the budget and look for something cheaper but don't expect "comfort" like air-conditioning and power steering. Much older and cheaper vans also tend to have more rust issues which can cost a lot of money to fix. There is also an occasional L2H2 available for this kind of budget, but they tend to be in worse conditions.
One option for this budget is also to buy a proper camper van. You can mostly get solid Fiat Ducato campers, which we recommend due to great engines and easily accessible spare parts. Don't expect to camp in parking lots and other public places though, this looks like your typical European camper and you are bound to have a run-in with the authorities as public camping is prohibited in most European countries. Here is an example: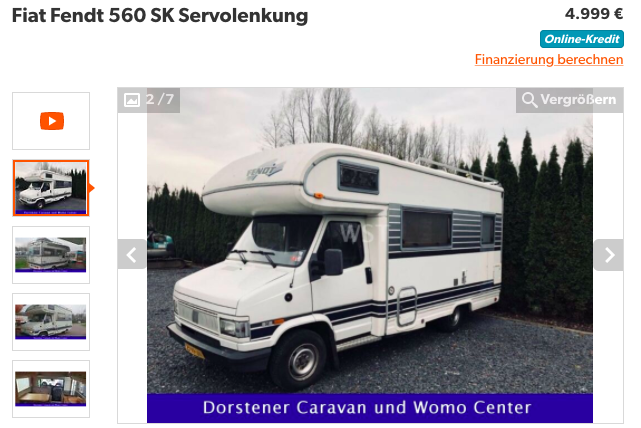 High budget vans (10,000€ and more)
If you have the money and you want something new and reliable, "high" budget vans are the obvious choice for your van life journey in Europe. You can get a new Peugeot Boxer or a Fiat Ducato for as low as 16.000€ (with certain discounts, be on the lookout). Both look great, drive great, and will be a super good choice for a van life conversion. If you want something more premium and better looking, you can always go for a used Mercedes Sprinter or a Volkswagen Crafter.
In our opinion, Sprinters and Crafters don't make any sense compared to their French counterparts. They don't offer enough for their price and french vans like the Peugeot Boxer have proved themselves both in looks and reliable engineering.

Our general recommendation is to always look for impeccable service history, even when buying a newer low mileage van. We also recommend not getting hung up on looks and status. Every "cool" van-lifer out there is driving around in a lifted, black Mercedes Sprinter with AWD and off-road beefy tires. Don't fall for that.
French vans are much cheaper, offer awesome engines, space and driving comfort. While it is true that Mercedes Benz is still topping the reliability surveys year after year, we just don't think the Sprinter offers enough for its price. Invest in a proper van conversion or rather yet, invest in your travels.
Van life in Europe: the costs
The whole concept of camping in Europe is much different compared to the US or Canada. Camping in Europe is organized, you have to check-in and check-out, just like you have to in a hotel. You also get certain benefits but you pay the price. Some countries allow camping in the wild or parking lots, but there aren't many. Here is the breakdown of costs and limits.
Is wild camping allowed in Europe and where?
The answer is yes and no, it varies heavily from country to country. While some countries like Sweden or Norway fully allow camping on public and private lands (with permission of the owner) there are also other countries like the ever-popular Croatia that strictly prohibit wild camping. To see the rules each European country has, please visit the regularly updated guide by Caravanya.

Wild camping or sleeping in parking spots can be a big issue in countries and areas that prohibit such activities. Being a local, I can assure you wild camping in countries like Croatia is not worth it. Wild camping fines can cost you more than a month of camping in an organized campsite.

One other factor is also safety. I can tell you straight away that I would not feel safe sleeping outside of a campground in certain areas of Europe. There have been plenty of cases where criminals were targeting sleeping campers and van lifers. It is just not worth it in the long run.
The average cost of camping in Europe
The cost of camping in Europe varies both by country and by the facilities or "extras" you get at a campsite. Countries like Albania, Macedonia and Romania tend to be on the cheaper side as they are not seen as popular tourist destinations and the overall cost of living there is below the European average. Countries like Spain, Croatia and Italy on the other hand tend to be quite expensive. Some campsites in Croatia and Spain can actually be more expensive than your average Airbnb apartment.

That being said, I have camped in Croatia for prices well below the European average and I have seen prices in Albania being right up there with those that can be seen in Spain. Campsites that tend to be more expensive are those that feature large pools, water slides for kids and even a daytime spa. Whether you need the spa or not, you pay the price for those facilities.
Personally, even in countries that are supposedly expensive I never had trouble finding simple, affordable campsites that had everything I need when camping (good and clean showers and toilets, electricity and grey water disposal). So don't be afraid of certain countries if you see their average camping prices being over the top.

According to Camping.info the average prices for two adults with a car and a tent are the following (the prices for camper vans and motor homes to be 15% higher):
€36.34 Switzerland
€36.18 Italy
€34.42 Croatia
€33.58 Spain
€29.31 Denmark
€29.28 Austria
€27.36 Slovenia
€26.83 Russia
€25.47 Norway
€25.33 United Kingdom
€24.60 Greece
€24.15 Finland
€24.15 France
€24.08 Sweden
€23.83 Germany
€23.41 Luxembourg
€23.38 Ireland
€23.28 Netherlands
€22.05 Iceland
€20.88 Belgium
€19.75 Hungary
€18.41 Lithuania
€18.09 Portugal
€17.78 Estonia
€17.14 Serbia
€16.97 Slovakia
€16.95 Bosnia-Herzegovina
€16.63 Latvia
€16.50 Ukraine
€16.47 Czech Republic
€16.07 Poland
€15.58 Montenegro
€15.14 Bulgaria
€14.73 Romania
€14.49 Turkey
€13.07 Albania
€12.53 North Macedonia
€12.00 Moldova
€11.29 Belarus
Conclusion
So is it possible to do the van life in Europe? It certainly is! I have personally met plenty of people doing it and you can easily find people doing it on YouTube or Instagram. Just like in the US or perhaps, even more, make sure you learn about each country's rules and guidelines for camping.
Do the same research for areas where you plan on camping in the wild or a parking lot. Even though most European countries rank high regarding public safety, there are still areas in certain regions and cities where crime isn't uncommon.

If you plan on staying longer in a certain campsite, make sure to tell the camp reception personnel that you intend on staying longer and that this "van life" thing is your lifestyle. They are generally very receptive and will offer you additional discounts!
About The Author