W211 Camper: If you are anything like me, you know that a car is not just for driving. Spontaneous weekend camping trips are my forte so my car has to be able to keep up. By keeping up, I mean that it needs to have enough place in the boot for sleeping. Not many estates or wagons are capable of doing this and I never wanted to drive a van as a daily car. I wanted to basically write this article just to showcase what any E-Class wagon owner out there can use their car for. I hope you find it useful.

One of our writers already wrote an article about why Wagons or Estates are the best choices for car camping. Check that article out here:
Here Is Why Station Wagons Are Best For Car Camping
Mercedes-Benz W211/S211 E-Class Camper
This is the exact reason why I bought a Mercedes-Benz W211 E-Class T for car camping. When you fold the rear seats, the loading area of the boot is completely flat and incredibly spacious. As you can see in the picture below, I easily fitted a 190×120 cm (6'2×3'11 feet) mattress in the back which is just enough to comfortably fit me and my girlfriend (I am 6'2 or 186 cm and my girlfriend is 5'9 or 180cm). We are both able to sleep with our legs extended.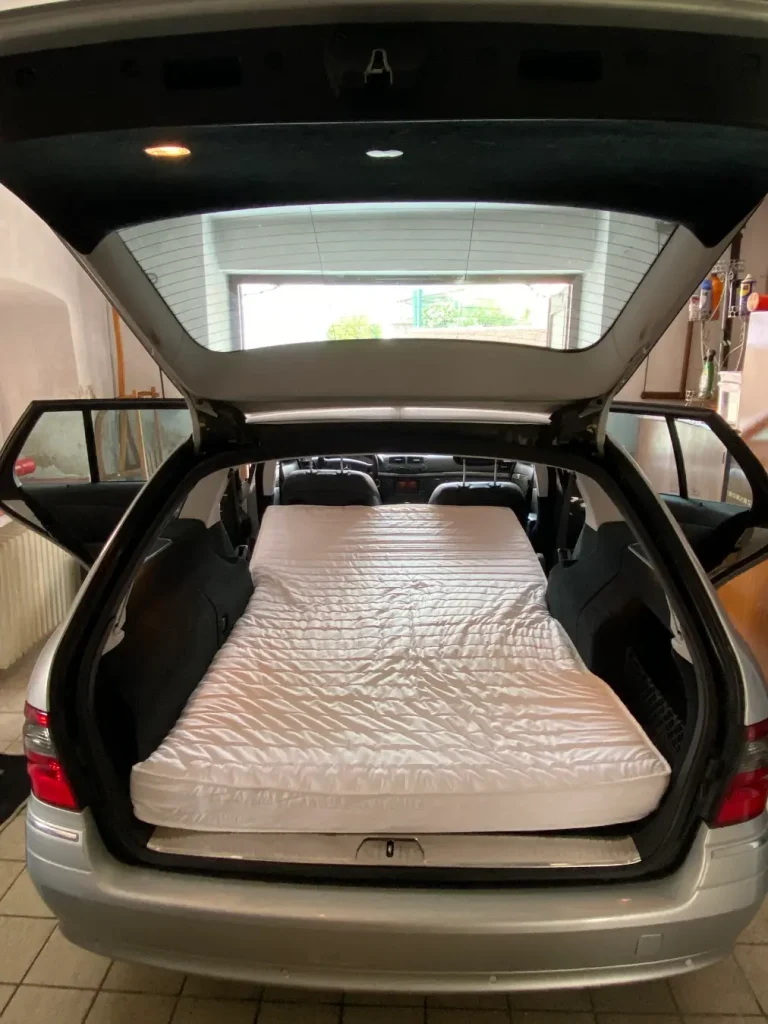 To make things easier, I can just fold the mattress in half and still fit in an insane amount of luggage. You can see in the picture above how I was still able to fit in all my camping gear and my SUP board. After taking the picture I was still able to fit in two suitcases, two camping chairs, a camping kitchen and a camping table.
One big benefit of using a luxury vehicle like the W211 E-Class for camping is also the self-leveling suspension in the back. The self-leveling suspension makes sure that the sleeping surface is always as flat as possible in the given conditions.
Conclusion
Seeing someone sleeping in a Mercedes is not a common sight on camping grounds. But it does not mean you should not do it. The E-Class wagon is such a versatile car and using it for camping just makes sense. Sure my 320CDI W211 with its OM642 engine is powerful enough to tow a large camping trailer but that is just not my thing. And I also do not want to buy a stupidly expensive roof tent for those few camping adventures I go on. And sleeping in the back of a car is much more comfortable and safer than sleeping on bare ground in a small tent. Not to mention that you do not need to pitch a tent in the first place.
Use your wagon for camping, do it!
About The Author