Car Camping For Seniors And Older Citizens: Camping in cars or tents is often connected to just young people and as you get older, you are expected to buy an RV and relax. But car camping has several benefits when you compare it to RV camping. Sure it is less comfortable, but car camping still holds the spirit of camping. It is more freeing, more exciting and it requires a lot less capital to fully enjoy it! And that is the spirit of camping, it is supposed to be a bit less comfortable, it is supposed to be affordable and it must bring about the feelings of excitement and enjoying more with less.
Why is car camping a good choice for seniors and older people?
We understand that not everybody wishes to sleep on the tent floor as they get older, and not everybody has the money to buy a van or an RV. Which is why many people as they get older, leave the idea of camping behind them and they stick to stuffy hotels and apartments.
This is where car camping comes in. We all own cars, and many of those cars are in fact big enough to sleep in with the rear seats folded down. In this way you can sleep off the ground and without having to set up a complicated tent.
Car camping benefits for seniors and older people
There are a lot of benefits to car camping when comparing it to tent or RV campers. Here are some of them:
You can set up your sleeping arrangements at home.
If you are planning a car camping trip, a smart thing to do is to set up your bed before departing. This allows you to try out your bed at home and make sure it is comfortable enough for you to sleep in the whole trip.
You can leave home with your bed already set up in the back.
There is nothing worse than arriving at a campsite late in the day and having to set up a tent, set up the bed and unpack everything. With car camping, you can mostly just park the car, hop in the back and sleep. The unpacking and other arrangements can wait for the morning!
You can go camping without worrying about the rain and the wind.
Camping in a tent during a storm is only fun until it is not. Your tent is only a pleasant place to sleep in when there is a light rain storm. Camping in a car is much more calm, dry and worry free. And you probably want all those things if you are older.
You can transform your car into a small camper by using a trunk tent.
Trunk tents are a simple way to prolong your living area with minimal effort and for a reasonable cost. This allows you to still sleep in your car where it is safe, dry and comfortable. When you exit your bedroom in the car you still have privacy and a covered area where you can set up your kitchen and dining area. Your bedroom in the car can still serve you as an area where you relax, read and enjoy the day.
You dictate your day as you wish.
Hotels only serve breakfast until 10 pm. If you go out camping, you can eat those delicious eggs and pancakes whenever you want. Seniors we talked to mentioned this as one of the biggest benefits of car camping and camping in general.
Meet like minded people.
You are only as old as you feel. So if you are getting on in age and are still adventurous enough to go car camping, there is a big chance you will meet people of your age with the same interests and lifestyle. This is not something that happens often in hotels and apartments.
How to prepare for a car camping trip for seniors
Young people often go camping without much preparation, even if that means that their time car camping will not be spent in the utmost luxury. Being older however, means that you should put some more thought into your first car camping trip.
Invest into a good camping mattress
A good camping mattress can make the difference between struggling to sleep and actually getting a good night's sleep. Do not buy cheap inflatable mattresses that are a pain to sleep on. A good camping mattress will last you for years so don't try and save pennies when buying one!
Buy a good sleeping bag or good camping bedding
It depends on the season you are planning to camp in but bringing enough high quality bedding or a good sleeping bag will always be a smart move to make. Make sure you stay warm! If you plan on car camping in freezing temperatures make sure you check out our guide on Sleeping In Your Car During Winter.
Figure out how will you cook and what you will eat
Setting up a make-shift car camping kitchen is crucial. You can make your own pull-out kitchen for your trunk if the space in your car allows it, or you can buy a kitchen like this, already made for you. You can also just bring a camping table, set up a gas or an electric stove and cook away. Have these things planned and ready to set up as you arrive!
Choose a campsite with electricity and toiletries
Wild camping is not a symbol of comfort and cleanliness. If you are older, we recommend that you visit campsites with nice clean toilets, showers and access to electricity. Camping with a source of electricity will be much more comfortable and pleasant. You can easily warm up your car camping bedroom, fill up your devices and even cook on an electric stove.

If you have to use the toilet during the night, make sure you set up your camp near the toilets!
Bring your first aid kit and medication
Accidents happen, especially when camping. While it all depends on the activities you get involved in, having a first aid kit at hand is always a good idea. The other thing is that you need to make sure you have your medication with you, if you take any.

Do not forget about your allergies either. While camping, you are much more easily exposed to harsh sunlight, wasps, bees and pollen.
Bring comfortable chairs and lighting
You are probably going to spend more time at the campsite than some younger folks. That is why it is important to bring a comfortable camping chair that will not hurt your back and bottom in the first few hours. As it gets dark outside, you will want to illuminate your camp with a high quality camping lamp. Do not forget about these camping essentials!
Bring an extra tarp
Bringing an extra tarp to line the cold ground or make an additional sun cover is always a good idea. It can also save you in the rain.
Plan your route, choose the campsites and read all the reviews
Planning your route with modern tools like Google Maps can help you avoid unpleasant traffic jams and road works. Once you decide on your destination, you can check the available campsites online and make reservations if it is the high season. You can also ask them about the facilities that they provide. While planning, you can also decide which activities you want to do when arriving. You can read reviews of restaurants, sights and so on. The more planning you do at home, the less unpleasant surprises will cross your path once you depart.
Things you need for car camping in general
If this is your first time car camping, we have written an extensive guide to all the things you need for a pleasant car camping trip. We included the checklist for every aspect of camping; for cooking, for sleeping etc. Do not miss out on our Ultimate Guide to Car Camping!
Best campgrounds for seniors
Because we do not know your location it is hard to pinpoint the exact campgrounds you should visit. But in our experience, there is nothing wrong in calling the campgrounds you intend to visit and asking about their noise policy. Some campgrounds allow parties and noise to go on for the entire night, while others strictly forbid it. In certain countries, they also offer campgrounds that are meant for seniors only. You can expect peace and quiet throughout the entire day at those kinds of campgrounds.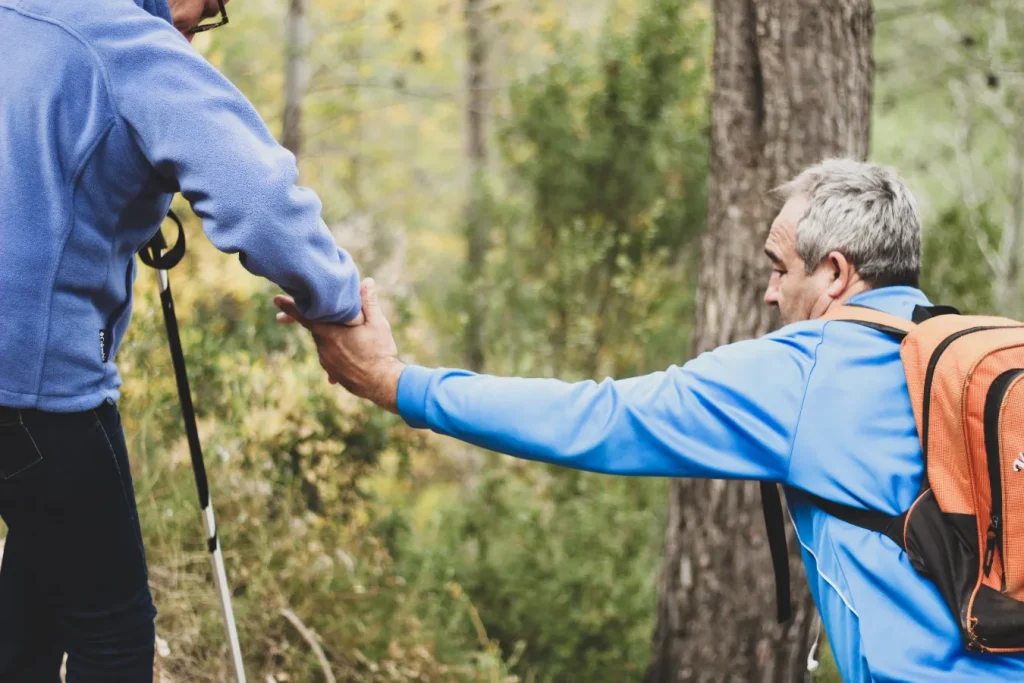 Conclusion on car camping for seniors
For seniors, our main advice would be to make as much preparations as you can at home. If you plan on car camping, investing into an easy to pitch trunk tent is also an amazing idea, it will make your car camping trip much more enjoyable and comfortable.

Our main advice for first time car campers is always this: if you can do a practice run in your back yard or a nearby campsite, DO IT! If everything goes well, you can hit the road with full confidence in your setup. You can also try and cook a meal with your fully packed camp kitchen.
Another thing you should always do is notify your friends and family about your trip. As an older citizen, you have to know your limits and make sure that your family knows about your whereabouts in case things go south. We do not want to sound pessimistic but that is how things are. Make sure you send them some pictures of your awesome camp setup as well!
One last thing before we sign off, please check the weather of your location. If the weather seems bad, just don't go. Camping in heavy rain can be a miserable experience and it might throw you off from ever going again. As you check the weather forecast and temperatures, make sure you also pack the right clothing!
About The Author