Car camping is not complicated once you have the needed knowledge and experience. Before you actually do it, it might seem awkward, confusing and even dangerous. But in reality, it is none of those things, it is the opposite of that. The people you meet when camping are one of the most open and welcoming people you will ever meet. Camping on its own is not confusing at all once you learn the basics and it is less dangerous than crossing the road.
In this article, we want to cover 5 questions we have gathered on the internet and we think to deserve to be answered. I mean, we just have to do it for all those that are just becoming interested in car camping. You are welcome to join us out there!
Can I sleep in my car at a campsite?
Yes, you can definitely sleep in a car at a campsite! Most campsites have no problem with you sleeping in a car, in reality, they do not care as long as you pay the fee.
We do however recommend that you always check the rules of each campsite you plan on visiting. Some campsites in the US National Park system will only allow backpackers to camp, there is no access for cars, vans and RVs. The same rules can be observed in European and UK campgrounds. Our advice is to simply check up on the campsite rules online before you leave home or just give the campsite a call.
Certain campsites will charge a different fee if you come as a backpacker/hiker or a car camper. The difference in the fee is mostly minimal so do not worry.
Sleeping in your car or van is even recommended if you lack the camping experience when it comes to safely pitch your tent for unexpected weather conditions. Sleeping in a car, car camping is not only safer when camping around wild animals, but you are also way more protected against the wind and the rain. Not to mention that sleeping off the ground is much more pleasant and you can set up your bed at home and you can be sleeping at the back of your car as soon as you arrive.
Is sleeping in your car considered camping?
Yes, sleeping in your car is considered camping. This is recognized both by the law and the camping community.
If you visit a country or an area where wild camping is strictly forbidden then sleeping in your car will not get you off the leash by law enforcement. Camping is allowed in most of the US Federal land but be sure to check the Recreation.gov website to get permits, information about free camping, tickets and everything else related to the US Federal land. You can also check the Adventure Projects website to help you plan out your next camping adventure. The third option is HipCamp, an app similar to Airbnb but for camping. You can get information and permits for camping on private land there or book a cheap campsite.
If you plan on car camping in Europe, you must respect the limitations of each country. Some countries like Sweden and Norway do allow wild camping, while other countries like Croatia and Greece strictly forbid it. Camping in Europe is mostly done at campsites. There are many options for campsites in Europe and you can easily get a camping spot for cheap. To see the average price of campsites in Europe and to see which countries forbid wild camping, check out Van Life in Europe guide that also applies to car camping.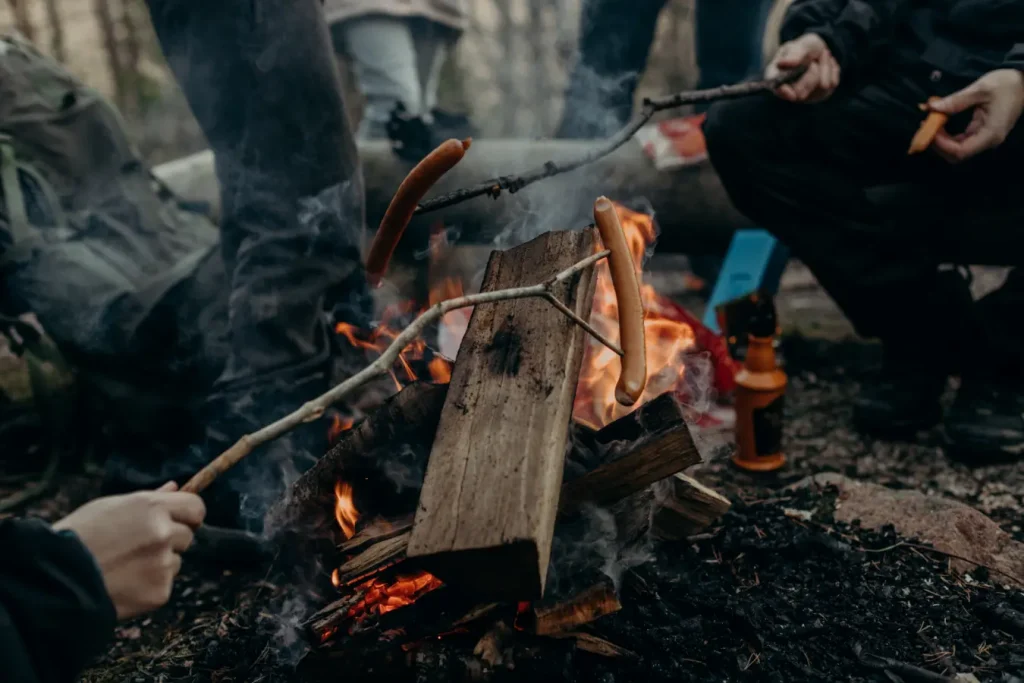 Is car camping safe?
Yes, car camping is one of the safest activities you can do. It is much safer than tent camping but there are still some things you should consider.
Any activity can be dangerous if you are not paying attention to what you are doing. Even crossing the road for instance. When it comes to camping, the 5 most common camping injuries include cuts, sprains, insect bites, skin irritations and dehydration. These apply to all types of camping and outdoor activities but what we want to do is list the things you need to be aware of when car camping.
Car accidents
We should all be careful when driving to campsites, most of the time these destinations are located in or near national parks and forests which means there is a heightened risk of collision with wild animals.

If you choose to camp in a tent beside your car (which is also considered car camping) make sure that the car is safely parked with the emergency brake applied. There have been accidents where a rolling car has injured campers who were asleep in their tents. If you sleep inside the car, make sure you do not roll away and hit other campers. You should also think about this when parking your car, look at how other campers are orientated.
Carbon monoxide poisoning
Heating or cooking inside the car, tent, or van is all a potentially dangerous activity. If you do plan on heating your car, van or tent make sure that you always have a source of fresh air replenishing the air inside. You should only do this if you know what you are doing. Learn the signs of CO2 exposure and bring along a carbon monoxide sensor (it costs 20$ and saves many lives).
Avoid parking under old mature trees
Parking or tent camping under an old, mature or dead tree can be life-threatening. If one of the big branches breaks off due to wind, you can easily get killed on impact. This is even more serious if you camp in a tent beside your car. If you sleep in your car, you are more protected which is another benefit to sleeping in your car.
Avoid bad weather and wild animals
If you plan on camping in a tent beside your car you should always check the weather before you head out, and you should do the same if you sleep in your car. While you are more protected, you are not invincible when sleeping in your car.
If you camp in areas where wild animals can reach your car or tent, make sure your food is either stored in a bear bag, a tightly sealed cooler or a bear canister. Never approach wild animals, take selfies with them, be calm and let them pass.
Car camping in urban areas: theft and burglary
If you plan on car camping and sleeping inside your car near an urban area, like a Walmart parking lot, be sure that the area is safe! Never risk your well-being because you want to save a few $ on a campsite. It is beneficial if the area is well lit, under the supervision of cameras and you black out the windows of your car.
Is it safe to have a heater in your car or tent when camping? Can you die?
Heating up your tent with gas or an electric heater is only safe when you use it correctly. There is always a fire hazard and a risk of carbon monoxide poisoning which can both lead to death.
If you choose to use an additional space heater, whether it is gas or electric, make sure it is fixed in a place where it can fall over and cause a fire. You should also always have a source of fresh air coming into the car. Do not seal up your car and turn on a space heater. Have at least one of the car windows cracked open so you have access to fresh air. For more information on car camping in cold weather, check out our guide on winter car camping.
Can you sleep in your car in national parks?
Yes, you can sleep in your car in national parks. Frontcountry campgrounds allow car access and you can sleep inside in your car if you want. Backcountry campgrounds however only allow camping in tents, no cars are allowed.
Nobody will have anything to say if you choose to sleep in your car. Most national parks campgrounds are located around big trees which means you will be even more protected against falling branches and bad weather if you choose to sleep in your car.
Can you wild camp in national parks?
No, you cannot. National parks offer plenty of options for safe camping but wild camping is not allowed.
To be honest, camping has never been easier and the National Parks offer so much to campers that it is only right that we respect their rules.
Conclusion
Car camping and camping, in general, raises a lot of weird questions that even Google can't answer sometimes. But that is all to be expected, if you just started car camping, do not be afraid to ask your camp neighbors some of these weird questions or even ask them for help when pitching your tent or leveling your car for the night. You can also read our Ultimate Guide to Car Camping which offers a great deal of information about car camping. I would say that the camping community is generally very welcoming of newcomers so you should have no worries about being ashamed or anything like that. Just do it!
About The Author