The highly popular BMW 4 Series, the first generation F32 (coupe), F33 (convertible) and the F36 (Gran Coupe, 4 door) share many parts with the 2011 F30 BMW 3 Series. And that is a good thing, a great thing really.
BMW based the F32 4 Series on the older 3 series and managed to fix many of the problems that were plaguing the early F30 models. This made the F32 4 Series a much more reliable and desirable car. Like any other car out there, it is not problem-free. Here are the most common BMW 4 Series F32 Problems.
Major faults on the BMW 4 Series F32
There really are any major faults to report, none of the problems we will be listing today are inherent F32 faults.
BMW 4 Series F32 Diesel Problems
The N47 Diesel engines that are present in the F32 4 Series (418d, 420d) have no more timing chain issues as all the F32 models received the updated engine version. Bigger, 6-cylinder engines are generally problem-free except for clogged EGR and DPF filters, which are prone to clogging if these vehicles make many short trips and city driving.
The key here is to monitor the state of carbon buildup in the EGR valve in order to prevent further damage. EGR valves and DPF filters can be cleaned if the issue does not completely destroy the valve or the filter. So regular maintenance and checkups are crucial.
There was also an EGR cooler recall due to potential leaks that could lead to intake manifold damage and even fire. If you are buying an F32 4 Series make sure that the vehicle you are looking at has had this fixed or if it is not affected by the faulty batch of EGR coolers.
BMW 4 Series F32 Petrol Engine Problems
All the petrol engines on the F32 4 Series turned out to be great when it comes to reliability. The only exception is the N20 Turbo engine which had timing chain problems until January 2015. You can read more about that issue in our BMW X3 F25 buyers guide which also had the same engine and problem.
Avoiding 2014 production models of the F32 4 Series is advisable. On the other hand, the B48 4 cylinder 435i and the B58 440i 6 cylinder engines are both considered to be great with the B58 inline 6 cylinder engine being praised as one of the best modern BMW petrol engines.
The B58 is also present in the Toyota Supra which says a lot about its reliability.
BMW 4 Series F32 Automatic Transmission Problems
Automatic transmissions in the F32 4 Series have no common problems, however, they are extremely sensitive to regular oil (transmission fluid) and filter changes.
Cars that do not follow the maintenance schedule are prone to developing a number of problems, jerky up and downshift being the first.
These things are not cheap to maintain and service, so make sure you buy a car with a full transmission servicing history.
BMW 4 Series F32 Crankshaft Position Sensor Problems
Certain F32 4 Series made between 15th May 2018 and 7th June of 2018 might have a problem with the crankshaft position sensor. When the sensor fails or sends false signals, the engine will enter "limp" mode and limit the power output to prevent potential engine damage. Dealerships will gladly check if the car you are buying is affected by this recall.
A similar issue was addressed in the 2014 Service Bulletin issued by BMW of North America. This bulletin covered the problem that pre-July 2014 F32 420i, 428i and 435i models could potentially experience.
Due to faulty engine position management parameters in the digital motor electronics software, the car flashed "service engine soon" and "drivetrain malfunction" warning messages.
In certain cases a reprogramming of the DME software was enough, but if that did not fix the problems, physical repairs of the VANOS system and crankshaft needed to be executed.
Minor BMW 4 Series F32 Problems
Owners report common problems with adjustable rear suspension, thumping noises and small problems usually lead to bigger repairs. If you do not wish to have bigger repair costs as these cars age, avoid models with electronically adjustable suspension.
Just like with the F30 3 Series BMW, a number of F32 owners report problems with premature engine crank or starter motor failures.
Due to a bad design (low, close to the road positioning) many F32 4 series vehicles are faced with damage to the Air Conditioning condenser/coolant radiator (rocks tend to fly into it mid drive and cause damage).
Many owners report steering wheel knocking sounds and problems. Avoid models with the complex variable sports steering.
Higher-mileage vehicles and early models eventually develop oil leaks on different gaskets (valve cover, oil pump, fuel filter..) of the engine, which is to be expected.
OEM brake system, pads and rotors/discs are prone to premature wear.
BMW 4 Series F33 convertible problems
There are no reported problems with the hardtop convertible system in the F33 4 Series BMW. These are a great option if you are looking for a reliable convertible. The only thing to note here is that water drains need to be regularly cleaned in order to avoid any water leaks.
Body and interior BMW 4 Series F32 Problems
Owners are reporting all kinds of interior rattles and noise. Finding the source of rattling can be exhausting and expensive at times. You can expect some wind noise as well, it is a commonly reported BMW 4 Series F32 Problem.
A number of owners are reporting poor quality of interior buttons. These tend to fade or crack.
The paint job on the BMW 4 Series F32 is very prone to chips and damage even when the car is normally used and not driven on gravel or rougher terrain.
Owners are reporting premature wheel finish damage.
Electronic problems
Many owners report issues with the infotainment system. Most of the issues are related to bluetooth iPhone and Android syncing etc. Some also report problems with the backup camera. Many of these small issues are fixed by updating the infotainment software.
Owners are also reporting other electric issues with the F32 4 Series like problems with the keyless entry system, light switches, tail lights, wiper motors and wiper fluid level sensors. But none of these issues are typically present on the F32 4 Series.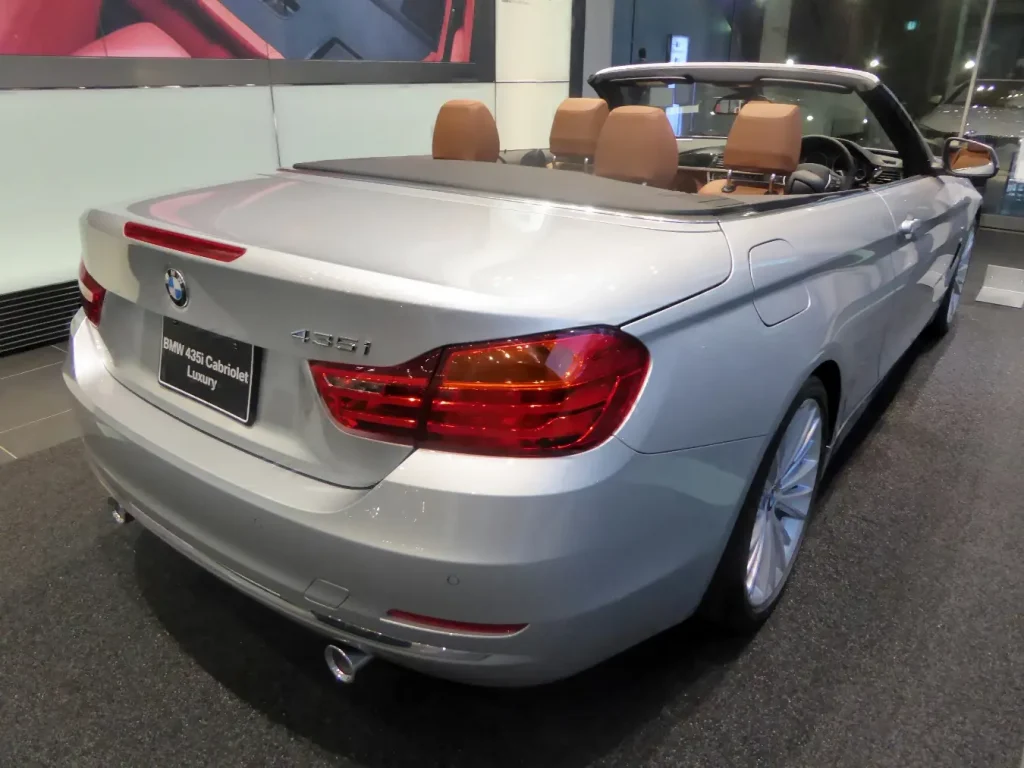 Frequently asked questions
Is the BMW 4 Series F32 reliable?
Yes, the F32 4 Series is a reliable car, especially when compared to certain other BMW models. The F32 4 Series has a great lineup of engines that do not have any major issues. There are of course certain smaller problems with this car but none of them pose a big concern.
See all the recalls for each model year on ConsumerReports.
Conclusion and recommendation
A used BMW F32 4 Series just might be one of the most reliable used BMWs on the market. Keep in mind that the things listed here are only what is commonly reported. These cars still have a number of components that can malfunction. So a premium car like an F32 4 Series is not a car you should be buying if you cannot afford the "premium" maintenance that comes with it. All the 4 Series models, the coupe, the gran coupe and the convertible are all examples of fine Bavarian engineering. Go for it, but always search for a full maintenance history!
About The Author