Audi A4 B8 problems: If you don't want to have the attention of a BMW and you don't want to drive the same car as your uncle (a Mercedes C class) then an Audi is your last resort if you want to drive a middle-class german limousine or a wagon. The Audi A4 B8 was first unveiled in 2007 and was an immediate success. Not only does it look good, but it was also packed full of innovative features and it drove as you would expect from an Audi. Being an Audi does have its drawbacks. It is not the easiest to diagnose and fix, nor is it the cheapest. This makes it all the more important that you buy an Audi with a clear service history. Here is the most complete list of Audi A4 B8 problems and faults.
Audi A4 B8 problems and major faults
Let's kick things off with one of the most common issues, the failing water pump. Audi A4 B8s are most vulnerable for their water pump. Due to a plastic build, the pump slowly lost its integrity due to high heat. The small cracks of the plastic housing soon developed into full leaks. Be on the lookout for coolant leaks, low coolant faults codes, fluid build-up around the water pup and an overheating engine.
Excessive oil consumption. This was a big problem on the Audi A4 B8 model that ended in a lawsuit and an extension of Audi's warranty. Certain engines across the board were notorious for massive oil consumption which was due to an issue with the pistons and rings. A new engine breather and upgraded ECU software resolved the issue in some cases.
Intake valve issues. Due to carbon build-up in the intake valve, the flaps themselves can get stuck and detached. Get those intake valves checked and cleaned if needed, this can be lethal. This is common on all FSI, TDI and TFSI engines, the symptoms include higher fuel consumption and weakened engine performance.
Do not buy a B8 with the Multitronic automatic transmission. Where do we start, the Multitronic transmission suffered both TCM (Transmission Control Module) issues and mechanical issues as well. Fixing a broken output shaft on a Multitronic is not something you want to spend your time on. Read more about the Multitronic gearbox here.
Models with diesel engines and manual transmission suffer pre-mature failures of the dual mass flywheels. This also causes higher wear of the clutch. Replace both when you notice increased engine vibrations on the clutch pedal and weird sounds.
High pressure fuel pump. A known common issue that is also a costly nuissance that leave you by the side of the road. Replacing a high pressure fuel pump can be extremely expensive at a dealership so we advise you either follow a DIY guide or find a reliable independent mechanic.
The last major fault that certain owners report are the misfires. This is usually due to bad spark plugs or coil packs. To see if the coil pack is faulty, move the coil pack onto another cylinder and see if it misfires there as well.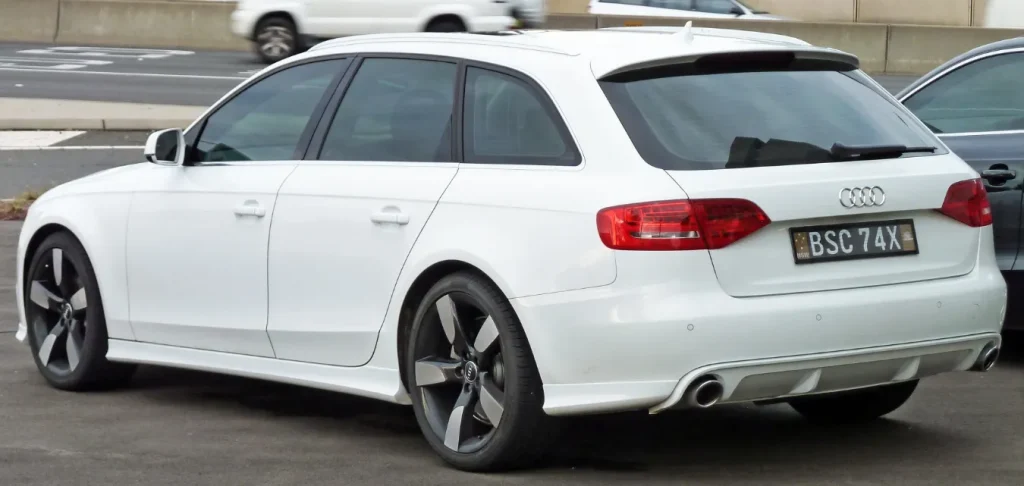 Minor faults
The steering wobble. While this may be a terryfying thing to experience while drivings it is an easy fix. The wobble and vibrations that you might feel on the steering wheel are caused by a faulty power steering line (hose). Any mechanic should be able to identify the location of the leaks and replace the hose.
B8's equipped with a 3.0TDI engine are prone to coolant leaks by the EGR valve cooler.
Owners often complain about the short lifespan of the front wheel bearings.
Vehicles with the 2.7TDI engine are prone to often glow plug malfunctions.
Body and interior problems
Bodywork should be without any weird spaces, ill fitting parts or door frames. As you would expect from an Audi, when it was new it was perfect. Anything else might indicate poor repairs.
Some owners complain about premature wear of the interior plastics and leather seats.
When scrolling through forums, many owners report faulty B8 ignition locks. A replacement is needed.
Electronic problems
Due to a software problem many owners of the Audi A4 B8 report the following issues: malfunctioning rear window heaters, faulty power window switches, issues with the power boot latch. All of this are usually resolved by a software upgrade.
Defective keyless entry sensors could also be blaimed on the software problem we desribed above or in some cases, new sensors are needed.
Defective parking sensors. Owners report that their parking sensors tend to beep even without any obstacles in their way. One of the reasons is a bad positioning of the licence plate. In other occasions, parking sensors need replacement.
Other electronic issues that do come up include: xenon headlight ballast malfunctions and gas tank cover open/lock issues.
Frequently asked questions
What are the specific Audi A4 B8 2.0 TDI problems?
Specific Audi A4 B8 2.0 TDI problems include water pump leaks and failure, leaking fuel injectors and excessive oil consumption. If the car has a manual gearbox, early failures of the dual mass flywheel are to be expected.
What are the Audi A4 B8 high pressure fuel pump failure symptoms?
A failing high-pressure fuel pump can be recognized by the following symptoms: poor gas mileage, delayed engine ignition, sputtering and hesitation of the engine above 2000 rpm, high engine temperatures and ultimately stalling and stopping.
Is the Audi A4 B8 a reliable car?
If you are buying a used car with a known servicing history, preferably a car that had all the known issues fixed, then yes, we would say that the Audi B8 is a reliable car.
Are there problems with the Audi A4 B8 sunroof?
We would say that there are generally no issues, after quick online research we did find some owners having issues with leaks and creaky sounds. Not something we would be concerned about as those problems tend to occur with all sunroofs and they are easily fixed.
Conclusion and recommendation
We can see why the Audi A4 B8 is still highly popular in 2022, it still looks good, drives well and it is fairly reliable when properly serviced. If you are buying the All-Road version, be sure to check the suspension. If you are in the market for the stronger S4 and RS4 be on the lookout for any signs of abuse and previous crashes. The stronger models tend to be abused and driven to their maximum. It is not the cheapest car to service so looking for a vehicle with rich and transparent service history is a must!
Pros
Cons
Our pick
– Drives like a -dream
– Comfortable
– Quiet interior
– Interior design and quality
– CVT Multitronic transmission
– Price
– Problems like the plastic water pump should not be a thing on an Audi
– Every engine without the Multitronic transmission and clear service history.
Read more of our buyers' guides here.
About The Author